Support Children and Families Affected by Autism at the First Annual Bird's Nest Invitational in Asheville, NC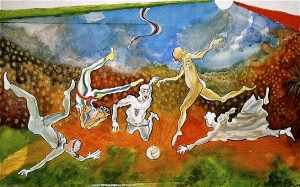 Hey Asheville, are you ready for a fun-filled weekend supporting a wonderful cause? Here at the HealthyUNow Foundation, October can't get here fast enough. Why are we so excited? Well, October,12 2013 marks the date for the 1st Annual Bird's Nest Invitational.
This co-ed soccer tennis tournament – brought to you by the HealthyUNow Foundation, the Asheville soccer community and our wonderful sponsors – supports children and families in Western North Carolina affected by autism. In fact, all tournament proceeds support the HealthyUNow Foundation's construction of The Bird's Nest — the world's first healthy-built, environmentally-pure and safe habitat for individuals and families affected by autism. Did we mention, this one-of-a-kind healing center will be built here in the Asheville community?
The weekend will begin Friday evening (Oct. 11) from 6pm – 9pm at the Millhouse with our Player Draw and Calcutta Kickoff Auction. We'll hold a random drawing to choose our co-ed soccer tennis teams. Then we'll hold a Calcutta auction where teams can pay – or should we say contribute a Bird's Nest donation – to buy or trade players from the pre-selected teams. If you've never participated in a Calcutta auction, then you are in for a fun, fast-paced time. And don't worry, we'll explain the rules the night of the event.
On Saturday the 12th, The Bird's Nest Invitational soccer tennis tournament will take place at The Meadow at Highland Brewery. This is an all day event running from 9am – 4pm. The community is welcome to join us and watch the tournament for free. There will be food and drinks on site for purchase.
Want to participate in the 1st Annual Bird's Nest Invitational? We would love to have your support. There is a $50.00 tax-deductible donation to The HealthyUNow Foundation which serves as your registration fee and covers your tournament package. We are also looking for help from the business community in the form of team sponsorships. Your business or organization can sponsor a tournament team with a $100.00 minimum donation, or you can donate other products and services.
No matter what level of support you can offer – on-field participation, sponsorship, volunteering or spreading the word – the HealthyUNow Foundation appreciates your help! Remember, your contribution will go directly to build the first of many Birds' Nests, right here in our Asheville community! Make sure to visit our event pages for more information and to sign-up before spaces are filled. Also, do not hesitate to contact us with any of your questions.
[section_heading]Dates to Remember[/section_heading]
Click on the dates below for more information.
[section_heading]Player Registration[/section_heading]